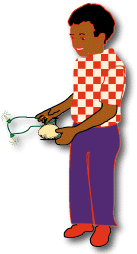 You remember that a battery is nothing more that a device that stores metals and chemicals. And all that citrus contains acids so maybe, just maybe, you can help poor Igor out.
1. Roll the fruit under the palm of your hand to soften but be careful you don't break the skin. Work it gently on a piece of scrap paper or a paper towel.
2. Insert the screws into the fruit about 5 cm apart. Don't allow the screws to go through the bottom skin of the fruit.
3. Carefully remove about 1 cm of the insulation from the leads on the holiday light. Do not cut into the wire beneath the insulation.
4. Twist one end of the wire around one screw and the other end around the other screw. Presto--you have light!