Margaret Mahy is a former Children's Librarian at Christchurch City Libraries and is one of the world's best and most famous children's authors.
Margaret Mahy was born in Whakatane in 1936, and wrote her first story at the age of seven. After graduating from Auckland University College and Canterbury University College, in 1955, with a BA, Margaret Mahy then attended the New Zealand Library School in Wellington, received her Librarian's diploma, and then went to work for the Petone Public Library.
In 1967 she worked for the School Library Service in Christchurch. During this time she had stories published in the New Zealand School Journal. Margaret Mahy's first book to be published was A Lion in the Meadow in 1969.
In 1976 Margaret Mahy was appointed Children's Librarian at Canterbury Public Library. In 1980 she became a fulltime writer and has gone on to win numerous awards for her books, and honours for her contribution to New Zealand and children's literature.
Read what she has to say about her writing.
Some of her books (she's written too many to list!)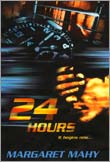 . . . . . . . . . . . . . . . . . . .

.